Launched in July 2020 – click here to find out more.
f1's commitment to Inclusion in the Marketing, Communications, PR  & Sports Marketing sector 
f1 is co-founder of two of our industry's most high profile Inclusivity movements and financially supports both programmes with up to 40% of our profits each year.
We are in the process of becoming an accredited B-corporation. 
Returners in our sector 

Frustrated at the amount of talent our sector loses every year for caring reasons who cannot get back to their careers, we co-founded Back2businessship Returners programme with Liz Nottingham in 2013. The programme has helped over 150 people get back to their careers. Click here to apply for the programme.
If you would like to learn more about becoming a company partner click here
black, Asian, minority ethnic  TALENT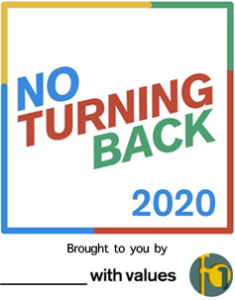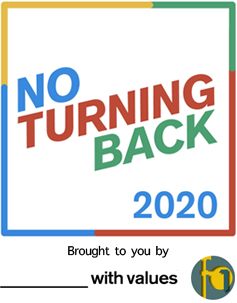 Trailblazing for change in our sector for black, Asian, minority ethnic talent, we co-founded BAME2020 with Adrian Walcott Co founder of Brands with Values, in July  2016. BAME2020 aims to see 20% of black, Asian, minority ethnic talent come into our sector and for this 20% to remain in it to the very top jobs.  
In August 2020 we changed our name  No Turning Back 2020 
The business case for a inclusive and diverse workforce strengthens year on year. Organisations that are inclusive enjoy higher job satisfaction amongst employees, lower staff turnover and higher productivity. The No Turning Back initiative is about creating meaningful and systemic change so that organisations can reap the benefits of an inclusive culture.
Participating companies  take an Inclusive values audit and commit to  using recruitment or search consultancies that can consistently evidence a candidate portfolio of more  than 15% from the black, Asian, minority ethnic communities. More information from noturningback2020@f1recruitment.com 
To find out more about how to become a NoTurningBack2020 Ambassador click here
We  have been  corporate signatories of the Business in the Community programme 'Race at Work since 2018
https://www.bitc.org.uk/race/.
We recently signed up to the 'Change the Ratio' campaign launched by the CBI in October 2020  
https://changetheraceratio.com/ 
Inclusion as Entry Level
Go to the careers zone at www.bame2020.org , the new Early Careers  Job Zone launching in January 2021 and learn more about  the No Turning Back Schools & Careers programme running during Spring 2021  
Taylor Bennett Foundation  http://www.taylorbennettfoundation.com
We have worked in partnership with TBF for many years and strongly advocate their work
Inspiring the Future Schools/Outreach talks  www.inspiringthefuture.org
My Big Career  Since January 2014 we have been working with My Big Career www.mybigcareer.org
PR & Marketing Industry  Trade Associations 
We are corporate members of the REC  (Recruitment & Employment Confederation) and  the CBI.  Our Founder is a Fellow of the REC
We work alongside the PRCA, the  CIPR  the  CIM, the IPA and the Advertising Association and support all the work they do through their own inclusion initiatives 
Sports & Entertainment Sponsorship
We work closely with ESA (European Sponsorship Association) and  the ESA Sponsorship Diploma, which has revolutionised the professionalism of young people in the sponsorship industry. http://www.sponsorship.org/content/diploma/index.asp
I've worked in the sports marketing and sponsorship business for many years and f1 recruitment have always been there both for friendly advice, practical help and as a great connector of world class talent. Most recently we've re-engaged as a result of their  work as a champion of diversity and inclusion – Amanda and her team continue to inspire action in our sector and are  great supporters of the work I now do, both in my own business and as Chairman of The European Sponsorship Association. Andy Westlake 
NED roles for Marketing & Communications Leaders
Financial Times Non-Executive Director Club – many senior marketers in f1's senior candidate portfolio are studying for the FT NED Diploma.
Women on Boards  exists to help women make the right connections and career choices to get to board level within their own company or to take on a non-executive board role. http://www.womenonboards.co.uk/
B Corporation
Certified B Corporations are businesses that meet the highest standards of verified social and environmental performance, public transparency, and legal accountability to balance profit and purpose. B Corps are accelerating a global culture shift to redefine success in business and build a more inclusive and sustainable economy. Society's most challenging problems cannot be solved by government and non-profits alone. By harnessing the power of business, B Corps use profits and growth as a means to a greater end: positive impact for their employees, communities, and the environment. The B Corp community works toward reduced inequality, lower levels of poverty, a healthier environment, stronger communities, and the creation of more high quality jobs with dignity and purpose.
B Corps form a community of leaders and drive a global movement of people using business as a force for good. The values and aspirations of the B Corp community are embedded in the B Corp Declaration of Interdependence.
We hope more UK businesses will also embark on the B Corporation accreditation journey. https://bcorporation.net/certification