Back to Our Blog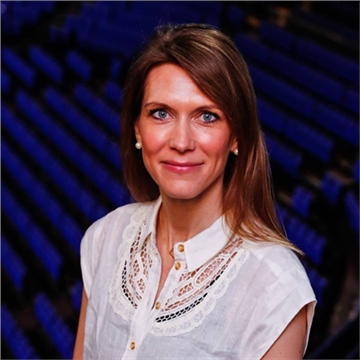 Where are they now? We meet Rebecca Martin, she tells us of her career to date and her rise through the sponsorship sector to her current role as Head of The O2
9 November 2020
Where are they Now – we hear from Rebecca Martin about her career to date and her rise through the sponsorship sector to her current role as Head of The O2. She talks candidly about juggling a career and a family, the challenges during COVID-19 and how building a strong network has been invaluable to her.
I know  you completed a PGCE after your degree in Psychology – were you planning to go into a teaching career?
I had actually wanted to become an Educational Psychologist, so I did my Psychology degree followed by a PGCE, then taught adults with learning disabilities as well as working at an amazing charity called 21&Co which runs communication therapy sessions for children with Downs Syndrome, plus, I became a Regional Makaton tutor (which is a form of sign language used for people with communication difficulties). I started out on my one-year Masters in Ed Psych but during the first term they changed it to a four year Doctorate. After having already spent six years studying, some whilst on the job, I unfortunately just couldn't commit financially to another four years, which was such a shame as I had an incredible passion for this and still do to this day. I am now currently trying to see how I can offer my services voluntarily to organisations that marry this experience up to what I do now.
What made you go into Sports Marketing instead? How did you hear about careers in Sport Marketing
When I knew my initial dreams of becoming an Educational Psychologist might not happen, I started to think about what else interested me and what my passions were. Many of my friends worked in the sport & entertainment sector, and my brother who lives in LA was heavily involved in sports, so I had always had exposure to the industry, combined with being brought up playing and watching many sports, I realised that perhaps this is where I should set my focus. I think I was just incredibly lucky as a friend of mine introduced me to Andy Muggleton who in turn then introduced me to Matt Worley who was setting up a sports marketing agency called Progressive. They were looking to hire an executive and whilst I was a few years into working, I knew I would have to start again in a new industry so jumped at the opportunity to join a start-up and grow with the business. This is where I realised how important it is to build and maintain a network, because it was very much a personal recommendation which luckily worked out (hopefully for the agency as well as me!).
You have worked both agency side (at FUSE for 5 years & earlier at Progressive Sports Marketing) and in corporate marketing / sponsorship teams at Barclays and now at O2
Why is time agency side important do you think? Agency side in my opinion is a great place to start out, well it was for me. It taught me an awful lot from client servicing, & what they required, to working across a number of sectors (e.g. Automotive, FMCG, Retail, Finance & Telecoms), to problem solving, to being a strategic creative thinker, to be incredibly organised and disciplined and quite frankly getting involved in such a wide variety of briefs means you don't become pigeon holed but get exposure to a bit of everything. All-important skills when transferring over to the brand world.
What would you say the benefits of being client side are?
Client side of course has its benefits too, you are much more focused on driving sole business objectives and are part of all the discussions to help understand the bigger picture, something you often miss out on at an agency. Not to mention that you are the budget holder and ultimately the decision maker which is refreshing when you have been on the other side. You also understand how sponsorships/ partnerships need to evolve alongside the brand, so the rights remain relevant and fit for purpose, too often rights packages quickly become out of date so working with Rights Holders to ensure they are flexible in their approach is key. Both have their pros and cons which is why I have moved back and forth between agency and brand, and I think the learnings from each have really helped me understand what's required from both sides and in turn helped me in succeed in the roles I have had.
You have been at O2 for the last 3 years as both Head of Sport and now Head of The O2, tell us about your current role and main responsibilities.
Yes, I started out as Head of Sport which meant I was responsible for our England Rugby partnership, our Priority sports activity and I also wrote a Gaming strategy for O2. Now, my main responsibilities are managing and leveraging The O2 partnership with AEG in order to build propositions that excite and engage O2's customers through all our touchpoints whilst continuing to deliver a world-class venue customer experience ensuring that digital is at the heart of all the activity. It is integral that I integrate O2's wider business objectives into any The O2 marketing campaigns in order to continue to drive brand consideration and fame. As we have been partners of AEG's for the past 12 years and have our deal in place until 2028, it allows us to really work closely together in ensuring that The O2 maintains being the number one venue globally and that we, O2, as the host, ensure everyone (O2 customer and non-O2 customers) has a visit to remember.
Tell us how you and your partner have managed to make 2 careers work alongside a young family.
I am very fortunate to not only work for a company whose mandate is that families come first, but I also am very fortunate in having a partner who is incredibly hands on and supportive. It definitely isn't easy, and we do often find ourselves having 'diary off's' but it is all about give and take and prioritising in our home lives as well as at work. It seems to work and hopefully will continue to work moving forwards. It is very much an equal share of the load.
How has 02 enabled you to have the flexibility you need?
I have to say O2 are brilliant in terms of flexible working. Prior to Covid, the company was already set up with people doing some days working from home, so when it came to the lockdown situation, we already had a lot of the tools in place to continue as we were and no real adjustments had to be made. I think that is why it works so well being a parent, as they support you when you may need to focus on your family and trust that you will still deliver what needs to be done.
Since COVID-19 hit in March and with a second national lockdown now in place what has been the most challenging for you and your family? How have you managed the ambiguity around COVID-19?
The challenge the first time around was returning to work from maternity three weeks into the national lockdown. I had a four year old and a one year at home with no childcare, plus we were both trying to work full time. As said, O2 were very supportive about the situation, but that didn't alleviate all the difficulties and frustrations I had at that time. I wanted to get back to work and throw myself into it after a year out, however, I had two young children who needed 100% of my or my partners attention depending on how we split our days. We did however find our groove and I actually think there have been many positives to come out of the situation, I don't have to rush to get a certain train, I can see my kids morning and night, I can still work a full day effectively and so potentially some may say have an overall better work / life balance because of it.
Thousands of women who still pick up the majority of childcare and other caring responsibilities across the UK may be trying to pick up their careers during or post COVID – what advice do you have for them on the challenges of getting back to work?
Whether it be the first, second or third time returning to work, there will no doubt be a set of emotions surrounding that, be it the imposter syndrome or frustration at wanting to get up to speed quickly or simply the fact you are now trying to juggle some many different elements to your life and the guilt that comes along that. If I can give anyone any advice out there, it is to be reassured that you are not alone in your feelings and try to talk to people as much as possible to explain how you are feeling as you will soon quickly realise that they probably felt exactly the same, although it might not look it from afar. Everybody will feel differently whilst on maternity leave but for me to was useful to keep in touch with colleagues, attend company planning sessions and when returning to work, be clear on how you want to now set your working parameters as a parent. Companies are going to be a lot more flexible and supporting, especially now, so do not be afraid to speak up and make clear what you want. There absolutely can be a balance.
What next for you in your career – what are your aspirations for the future?
My current aspirations are to focus on surviving this very strange period that we are in and successfully re-open The O2 to all our customers. Longer term, I would like to continue to work on partnerships that serve a true purpose. I guess the one area I haven't worked is rights holder, and I feel my agency and client experience would serve me well in helping rights holders ensure they were innovative and being fully future proof. It would be great to merge both my career paths at some stage, working with those who have a disability and the sport & entertainment industry. I truly believe that we are all capable of achieving incredible things, the Special Olympics, ParaOlympics, Invictus Games and charities like Nordoff Robins just prove that, and those individuals who might not be as able to have experiences handed to them as I fortunately have, absolutely should.