Back to Our Blog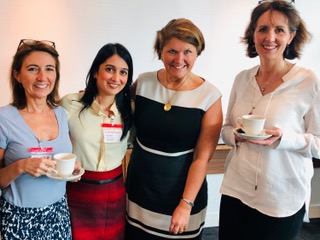 Nail the job search boot camp; strategies that work! – Back2businessship day 4 – diary of a returner
18 March 2019
When I came to this programme, I was terrified. I felt like a dinosaur! Who'd want me? Thankfully, over the last four days, the Back2Businesship 2019 programme has chipped away at my demons. I'm beginning to realise it's an exciting time to be a re-entering the job market.
Today, Amanda Fone, CEO of f1 Recruitment, demystified the new ways of searching and connecting with companies to nail that job. It's brilliant to know that there's a growing number of companies who value my 'stickability'. In the old days, people like me worked in a company for a long time. My work experience still counts. Being a woman returner is an asset for companies.
So much has changed and knowing how to apply for a job now is a skill set in its own right. It appears that salaries haven't risen much, but hey, you can't have everything!
So what did we learn about getting your dream job? Well, it might be easy to click apply on Linkedin, but it's not about the speed of applying for a role, it's about the quality of that application, and that takes hard work to craft. It's about using your creativity to stand out from the crowd. It's about applying new digital skills to search effectively and use those same search techniques to match your CV keywords to the job.
It's a brave new world out there. And you know what they say, if you want stuff done, ask a busy woman. We always find a way.