Back to Our Blog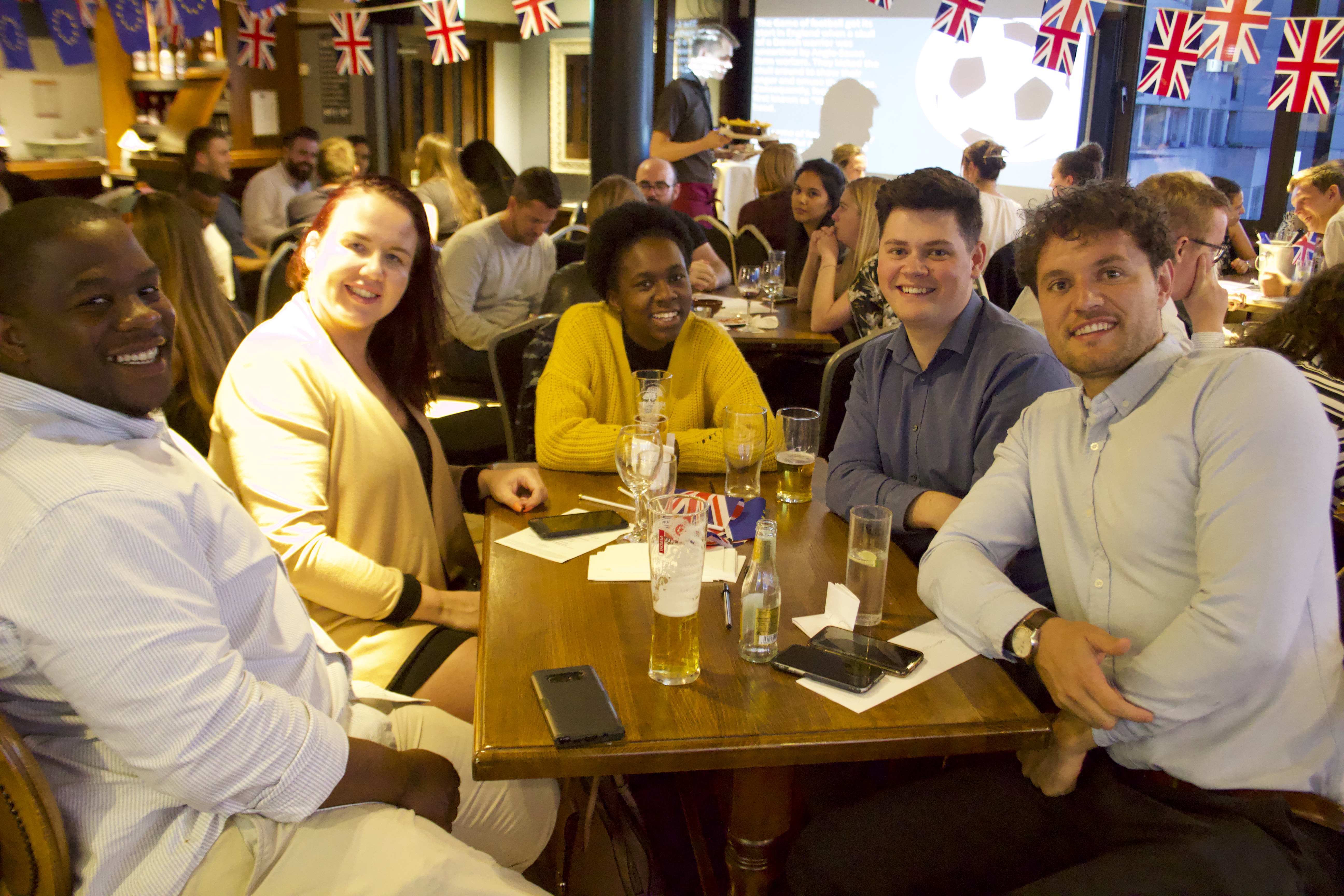 Industry PR Training Programme for BAME Graduates – apply now before it closes…
28 August 2019
Check out the f1 team at the Taylor Bennett Foundation annual pub quiz last week! We are proud to support the Taylor Bennett Foundation and wanted to highlight their PR Training Programme which closes soon, so if you are interested now is your chance to apply!
The Taylor Bennett Foundation's award-winning PR Training Programme is a ten week full-time training course in Public Relations (PR) and Communications, designed to equip participants with relevant skills to work in the PR and corporate communications industry.
There are a number of programmes each year, each sponsored by a different PR or communications agency. Their current sponsors are: Brunswick Group, Finsburyand FTI Consulting.
---
 See below further information about the PR Training programme.
What is the PR Training programme?
The PR Training programme is a ten-week intensive PR and Communications training programme and this programme is sponsored by communications agency, Finsbury. 
Finsbury are a global leader in strategic communications. They are trusted advisers to boards, senior executives and legal counsel of many of the world's most successful companies, institutions and organizations.
This training programme is designed to directly address the need for greater ethnic diversity in the communications & PR industry and is open to BAME graduates only.
The programme combines practical workshops with regular writing and presenting tasks, to provide extensive industry insight and allow the development of specific skills. English tuition is also provided to boost participants writing skills. Tasks on the programme include:
Strategic Communications Workshops, including an introduction to Financial Communications, transactions (IPO and M&A), Investor & Media Relations, Public Affairs and Crisis Communications
Presenting – presenting campaigns and research topics to a variety of audiences.
Writing tasks – Conducting daily newspaper summaries of the broadsheets, mid-market tabloids and the red tops. Writing regular press releases and maintaining a blog which looks at prominent issues and case-studies within the industry.
Visits: Weekly visits take place with a variety of agencies and in-house communication's teams.
Training courses via the CIPR and PRCA
The Traineeships are paid – £269.50per week training allowance – TAX AND NI EXEMPT (take home pay is equivalent to national minimum wage) + travel expenses in London.
Will I secure a job when the programme finishes?
Jobs are not guaranteed, however they have a strong track record of graduates on the programme securing jobs. 83% of their alumni have gone on to secure work in the communications industry!
What they are looking for?
Passion for current affairs, the commercial world and the media.
Raw talent, ambition and drive.
Excellent research and analytical skills.
Lively curiosity and a hunger to learn.
Communications skills; people who can listen, are articulate and persuasive.
The successful candidates will:
Want to pursue a successful career in PR and communications
Have graduated in the last three years. We will accept applications from graduates who have studied any subject
Be a British national or have immigration status that allows you to be employed in the UK at the end of the 10-week programme.
Be able to commit to the full 10-week programme.
How do I apply?
Eligible graduates need to submit an application form by Friday 30th August 2019, 5.00pm.
What happens next?
Shortlisted applicants will be invited to take part in an Assessment Day on Friday 13th September 2019.
From the Assessment Day, the successful candidates will be chosen to join the programme for 10 weeks from Monday 23rd September 2019. A pre-assessment briefing will take place approx one week before the assessment day.
To apply, please complete the online application form here – 2019 Autumn PR Training Programme.