Back to Our Blog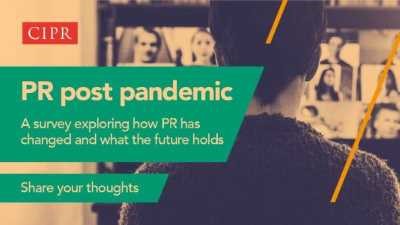 CIPR – PR POST PANDEMIC A survey exploring how PR has changed and what the future holds.
24 March 2021

One year on from the start of the pandemic in the UK, the CIPR want to understand how working life has changed for PR practitioners, their organisations and the broader profession.
They also want to understand what you think will happen to PR in the next year.
This study will help them to further improve their services, shape their policies and campaigns, inform debate and generate intelligence to share with the sector.
You will be invited, at the end of the survey, to enter a prize draw to win £100 of Amazon vouchers.
The survey is anonymous – we do not collect Internet Protocol addresses or geodata.
It should take between five and ten minutes to complete, depending on your role.
Click here to take part