Back to Our Blog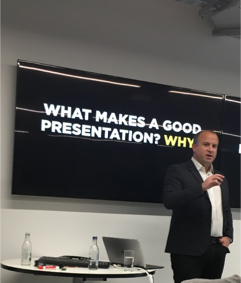 Back2businessship Programme 2017, Day 4- Building Confidence
13 November 2017
At this year's Back2businessship, we have asked the delegates to write short blogs. From day five, we hear from Alison Levitt and Judith Meagher, two of this year's delegates.
We returned to R/GA excited to start Week 2. Today was focussed on building our confidence and developing our presentation skills.
Something you don't know about me…
Lynne Parker from 'Funny Women' led an interactive session focussed on us. We were asked to share something that the other candidates did not know about us. This revealed that seated amongst us was a Turkish speaker, a Triathlon athlete and one lady, who was lucky enough to have kissed George Clooney!
Next, we looked at our loves, hates and wishes.  We presented back to the group what the other delegates had told us and were then grouped into our respective 'love' themes. After a hectic five minutes our workshop ended with some entertaining role play which required some quick thinking and a lot of ad-libbing!
The more things change the more they are the same (Jean-Baptiste Alphonse Karr)
The second session was from Nationwide Building Society. Anna Bentham (Director of Marketing Planning and Propositions) and Sarah Howell (Director of Brand & Creative Services) spoke about their recent "Class of 2017: Student Marketing Campaign" and how the marketing landscape has evolved over the past 10 years. We discussed the channels that might have been used for such a campaign in 2007 Vs 2017 and learnt how communications are now much more targeted due to developments in data. We also spoke about the complexity of managing more channels and the integrated approach that is required.
The campaign succeeded in reaching 63% of the target market and the students who took up the offer received a 'delight box', which was an innovative way to involve and surprise them, but also encourage them to share the campaign.
Rachel Millington (Assistant Marketing Manager – Retail), spoke about her personal 'Returner' journey. She addressed the work life balance, the flexibility of Nationwide as an employer and the need to find a corporate culture that allows flexibility in the workplace. She shared some valuable top tips that were reassuring but also made us appreciate the importance of proper research and preparation in our own career planning.
Being the best presenter you can be…    
Lunch was followed by a presentation skills workshop. Will Sturgeon (Golin Executive Director) highlighted what makes a good presentation, why people fear presenting and how to engage your audience.
We then all gave out own 60 second presentation on the most significant thing we had learnt during the first week of the programme. Despite our initial fears Will encouraged us to abandon our notes and speak to the whole room and thought the presentations were 'brilliant'! We finished the session clearer about our objectives, wiser about our strategy and ready to engage our next audience!
Looking forward to Day 5 on Wednesday.