Back to Our Blog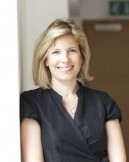 Where are they now? Victoria Palmer Moore
14 November 2013
When I met f1 I'd been working in investment banking for 11 years and wanted a career change to something more entrepreneurial, using my skills learnt from equity sales. I responded to an f1 ad about financial PR. f1 listened to me, found out what I'd been doing and then rather than me saying "I want X" they matched me very cleverly with Rory Godson at Powerscourt. At the time there were four or five people working there and we hit it off straight away.
I started at Powerscourt the day after my honeymoon eight years ago. I was new to the world of financial PR so I worked in many different areas – writing pitches and managing client accounts, but also helping to build the business. I was made a partner three years ago and we are now a company of 35 people with 60 outstanding clients, including FTSE100 and FTSE 250 companies from all different sectors. On the staff we have journalists and PRs and city people like me. When I first started there was no Twitter and placing stories in the papers came first. Now CEOs ask, which website should I be on?
f1 has helped us recruit four new people in the last two years, two of them directors. f1 understands our business and how to present our company to potential candidates.
My tip, to anyone thinking of moving from the city to financial PR, is: Do it! PR can take you into so many different areas from corporate strategy to crisis management or to managing a team. We are a trusted advisor of many businesses and we sit right by the side of the board to help on big reputational issues. It's fascinating.