Back to Our Blog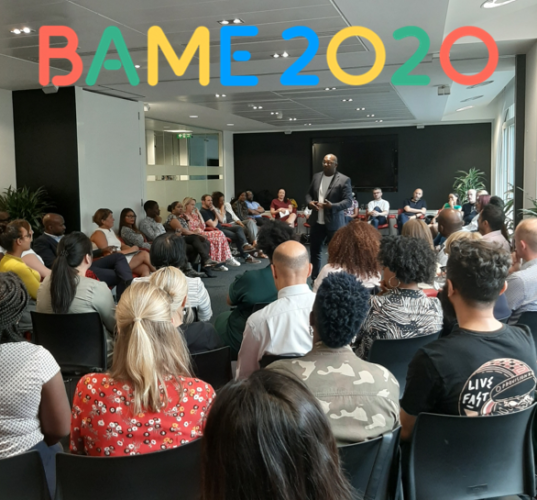 Call out to LEADERS in PR, marketing and comms – BAME2020 February event
29 January 2020
Leaders in PR, marketing and comms are invited to our next BAME 2020 February event at M&C Saatchi
BAME202 is a non-commercial initiative and is already boosting race diversity.
"Statistics suggest that 49% of the population in Outer London will be non-White by 2041. We need to employ far more people representing this group, and create the right messages that marketing and communications is a rewarding career with a baked in democratic attitude towards promoting all talent. Our industry is under pressure to be truly representative," Says Amanda co-founder BAME2020.
Yet, according to the most recent research carried out by the Institute of Practitioners in Advertising (IPA), BAME representation in the sector's C-suite is still only 5.5%. The statistics are slightly better for BAME representation in lower levels, hovering around 12-15%. Women now comprise 32.7% (in 2018) of the sector's c-suite roles, only slightly up from 31.2% in 2017.
"Overall, these statistics are a long way off the 2020 targets set by the IPA for the sector, which is aiming for 40% of all senior posts to be held by women and 15% of people with BAME backgrounds. It's also aiming to attract 25% of BAME new starters," points out Fone
RACE AT WORK
The challenge of attracting more BAME candidates in this sector is partly down to the perception of the industry. "Jobs in marketing/communications aren't really perceived to be 'serious careers' by the BAME community, particularly amongst parents and grandparents. This is because of the lack of professional qualifications needed to enter the profession and the lack of clear career progression opportunities, which has meant that BAME youngsters have not traditionally been attracted to our sector," explains Fone.
So she set up the BAME2020 movement with Adrian Walcott, MD of consultancy Brands with Values, to challenge these perceptions through a series of events, entitled Lets Be Bold about the Subject of Race. "We have already built up a network of 1200 supporters since our launch in 2016 and more than 60% of people that attend our events are non-White, and of all ages and backgrounds," says Fone. "They attend our events to discuss the issues they face in this sector in a safe confidential space, without repercussions or reprisals. As we have engaged the BAME community in a very authentic way, we are now recruiting more BAME applicants for companies in our sector."
The next event, taking place at M&C Saatchi offices in Soho on Tuesday 4th February 2020, focuses on the BAME community engaging face to face with leaders in marketing and PR to encourage them to talk more openly about the subject of race in their places of work. "Attraction and retention are crucial, but to change the status quo leaders need to engage more, listen more and do more to ensure their companies and teams are lev
The 3rd event in our series
'Let's Be Bold about the Subject of Race'
2020 is going to be a defining year in our sector for Inclusion and Leaders say they want to know more about 'Race' inside their companies.
Using the 'fishbowl' format we share experiences & insights and agree actionable
steps that can implemented in the workplace. Our events are inclusive, non judgemental and collaborative. Since 2016 we have built a like-minded group of over 1200 industry professionals of all levels who want to create sustainable change.
Please join the conversation whatever your level. You have a voice.
Hosted by Adrian Walcott, Amanda Fone (co founders of BAME 2020) and Sereena Abbassi Worldwide Head of Culture & Inclusion at M&C Saatchi.
Tuesday 4th February M&C Saatchi 18.30—20.30 15 Golden Square, London W1F
f1 Recruitment reinvests 40% of it's profits into diversity initiatives: BAME2020 and Back2businessship 2020 and it truly committed to TSI (total societal impact).